The water has consistently hovered around the 60-degree mark now for several weeks. Florida is often not associated with "seasons". However, after prolonged periods of extremes like late summer heat or late winter cold, our fishing can hit lulls and plateaus with inconsistent catches.
We are now nearing the end of yet another chilly winter. As a fishing guide, the potential of a cold winter is something we stomach as an accepted variable of a glorified farmer. You win some and you lose some. The beauty of a cold winter is, it sends all of the fish to their typical winter haunts. Often in these areas the food source is minimal. Add in the fact that fish are cold blooded animals, naturally their metabolisms are slowed by the cold. Like a hibernating bear, they survive off of stored body fat.
We are now just a couple of weeks away from these fish returning to the flats with one thing in mind, feeding. In addition to the fish needing to replenish body fat lost during winter to become wholesome, many of the species need the protein and oils critical for the rigorous activity of spawning in the spring. This means one thing to the savvy angler-it's show time!
If when getting the morning paper, I see the bloom of Hibiscus, a hummingbird working Coral Honeysuckle, or smell the fresh fragrance of Jasmine, I know the time has arrived.
First out will be spotted sea trout. Redfish will be found rooting the edges of the grass flats on warm Indian summer days. Snook will remain adjacent to their escape routes provided by deep water to remain vigilant of any late passing fronts. All three species will be taken from the same spots making life easy for a fishing guide and highly productive for their anglers. Jacks will run ramped. Cobia will show first on the nearshore wrecks and deeper channel markers, soon to be found riding the wings of southern stingrays on the flats. Spanish mackerel, followed by king mackerel will wreak havoc on the northerly migration of bait pods. Grouper will move in shallower and feed like they do at no other time of year. In short-it's time to rock n' roll.
Finally comes what we all been waiting for. Giant tarpon will be the quest of those who hail from all parts of the world wishing to test their mettle against the greatest big game fish on earth. Each year tens of thousands of tarpon congregate along out coast in numbers second to none in the world. The beauty of this fascinating species is its character traits of purity and non-discrimination. Unlike other big game fish, tarpon inhabit areas close to land that are accessible by million dollar yachts, wooden row boats, or from a fishing pier alike. They care not of what class of society you come from. They are not reserved for a social drift during martini hour, Grey Poupon and fine Cuban cigars. They like you just the same if you drink Busch beer, enjoy Vienna hot dogs and chew Copenhagen. They care less if you offer them live, dead, or artificial bait. They will burn the gears of a Penn International reel just as they will a Zebco Rhino. Tarpon are American built.
When I reflect back over my life, few memories stand as vivid as the fury of a giant tarpon dancing off the bow of my boat. Morning has broken as the sight of a ballistic surface to air missile launches. The vibrations of beating hearts travel through the deck at mach speed and radiate up through my feet. Thunder fills my vitality with complete satisfaction. No matter if its under the cover of darkness, lost in time on a calm and gin clear flat, off a busy highway with the roar of morning rush hour traffic as the backdrop, it is only silence that I hear while I serve eyewitness to the mystique of stalking this relic of an ancient animal.
I find a peerless nexus with those I share and provide opportunity in this experience with. It is the tarpon that is the catalyst that creates perpetual bonds and timeless memories with those I cross paths with in life. It is these small snapshots in time that make the tarpon immortal, not the animal's incredible 100 million years of being. We are fortunate not to catch them, but that they catch us and create treasured experiences that can never be taken away or replaced.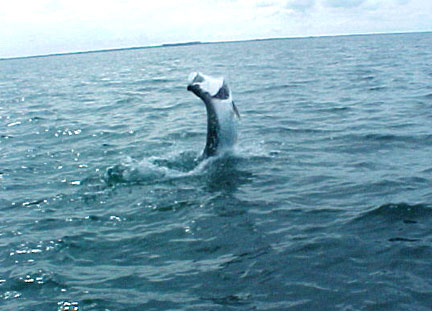 From the outside, the obvious attraction may seem superficial of small fortunes of fame and personal gain for a tarpon guide. However, the truth is, there is actually little of that in this. We do it for the love, passion and for the freedom that we can. And we will. The cost of freedom has never been easy in the shadows of the principals of our founding forefathers. That is the American tradition of the utmost consequence often missing in the bottom line of the fine print of hidden agendas. Politics and special interest have found their way into our fishery despite the will of the people. I remain vigil and I will not back down in what is equally fair in man's meddling of tarpon.
For me, the intrigue of tarpon is found within the theater of serenity, euphoric desertion and sovereignty that I can share with many who have the same common ambitions as myself. The ferocious rattle of the gill rakers, the majestic tail walk dance of the silver king, and the stamina of the wild beast against man are all just bonuses. We merely play our role as pawns in a game held in the king's court. A challenge we refer to as our annual calling. Many of you have become like family to me over the years. These experiences we share will never be taken away and I am looking forward to "catching up" with you real soon.
On behalf of all of us within your privileged society, thank you Megalops Atlanticus for all you've done and do- unconditionally.
Each year my entire peak season is a sell out. If you have the desire to experience the best giant tarpon fishing in the world in 2004, now is the time to contact me.
Screaming Drags and Tired Arms!
Robert McCue