Late summer conditions have settled in. Adjustments of both man and fish are now made to escape the heat and humidity of August. Early mornings, late afternoons and the evenings are most comfortable/ productive for those seeking the silver lining of Florida gamefish.
Giant tarpon have for the most part left the emerald green waters of the Gulf and have entered the larger bays and rivers to feast on the potpourri of menhaden, herring, and glass minnows. All the classic spots are holding fish that travel with the bait schools throughout Tampa Bay. With another summer experiencing above normal water temperatures, the fish have not been showing as well as they have in years past. That is not to say they are not here. Tarpon acting in this manner make difficult targets for plug casters when they are not rolling. Unless you are absolutely confident by fishing a determined pattern of the fish, fishing blind with plugs can be some of the most tedious fishing there is. The time tested methods of soaking fresh shad or freelining live baits is a lot less work and more productive in these type of conditions. The major bridges, dredge holes, submerged oyster bars, limestone dredge bars, rocky points, river mouths and bends are holding fish from 80 to 150 lbs at this time. Each spot holds its own unique lunch hour, some are best at low light, others best on particular phases of the tide. When the time of day, moon phases, solunar periods and tides line up, late summer tarpon fishing can easily surpass the more classic periods of late spring.

A worn out John Orszulak (aft) strikes a pose with one of his giant tarpon with the assistance of mate, Brian Timmons.
The smaller rivers and deep residential canals are active with juvenile tarpon ranging from 15 to 50 lbs. Again, the time of day, tides and moon phases have a lot to do with how productive and active the fish are.

Night offers the most comfortable and often, the most productive tarpon fishing of summer. The lit major bridges that span Tampa Bay attract giant tarpon like a porch light attracts bugs. Unlike other areas of Florida where fishing for tarpon at night robs you of seeing the prince of silver in full aerial displays, the lit bridges offer a Monday night football arena of play.
Giant tarpon cruise the shadows created by the bridge above--- just inches under the surface. Anglers staked out under the cover of the bridge and in the darkness wait for the fish to cruise the shadow line in search of an easy snack. Once a fish is sighted, the savvy angler pitches live or artificial bait just beyond the fish that will be swept across the tarpon's nose. What happens next is nothing short of pure chaos. I have caught and fished tarpon in near everyway imaginable. Visions of the fish striking, rolling, moving and jumping in every way imaginable are daily flashbacks in my life. However, there is nothing that can compare to a 100lbs of silver fury eating just inches from your feet and locking eyeballs as they jump over your head. Like most late season tarpon fishing, knowing which bridges, at what time of year, what tides and how the fish move along the bridge during different phases of current flow are the staple in consistent fishing.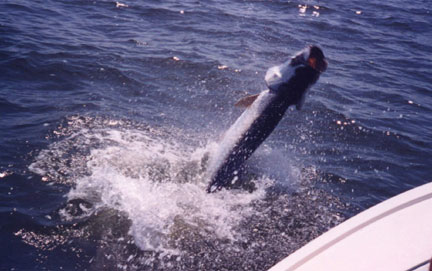 A Tampa Bay "post season" tarpon goes bad aboard the Bounty Hunter.
Image courtesy of Dennis Piekutowski
Some snook are still available along the beaches and in the passes. The fish will now break up before they makeup in retreating to their fall lairs. Pompano fishing has been slow deep inside Tampa Bay (likely due to the influx of freshwater runoff). Pompano extraordinaires are doing best in areas just inside of the major passes. Redfish have yet to school in the numbers we see in most years at this time. Next week the moon will go full and hopefully that will bring the masses to the shoreline. "Late" or an "off" cycle is yet to be determined until then.
By making your efforts based on the time of day that you are most comfortable and accompanied with hardened experience, you too may find the bounty of comfortable Florida gamefish just a stones throw from land.
Screaming Drags and Tired Arms!
Robert McCue