Below average air and water temperatures continue to plaque the Sunshine State the past 3 weeks. Water temperatures remain below 60 degrees on the flats bringing the challenge of winter fishing to become, ummm------very challenging. However, a warming trend that started today may bring us to more typical winter conditions over the weekend.
Trout and redfish will be the first to make it ultra skinny water to sun themselves. Most often they will relate to leeward oyster bars and cul-de-sacs adjacent to deepwater drop-offs and creeks. No sense in rising early as the most productive times will be mid morning throughout the day. Long cast with live select shrimp get the nod on fish with a positive location and slow retrieves with soft-body jerk baits when in search---gets the nod. These fish often are very reluctant to bite as they are attempting to re-energize their systems and are low on metabolism.
In the deeper and darker waters of the rivers) trout, rat reds, and sheepshead will be found around the deeper pockets, feeder creeks, oyster bars and docks. A live shrimp barely anchored to the bottom (I prefer a light jig head) will get best results when the flats are unproductive. As an overall strategy, efforts on afternoon high tides are best on the flats and inside on the ebb tides.
Snook are closed till February 1st. They are the most cold-sensitive fish we have inhabiting our waters. With the temperatures below 60, they are struggling for life and are best left alone. If the worst is behind us, they will become active in just a few weeks as they make their annual trek to the Gulf.
The power plant has been producing some nice catches of trout, a few redfish, scattered jacks, bluefish, ladyfish and small permit. For whatever the reason, it has not been as productive as in years past, but that could easily change over the next few days with the temperatures on the rise. One thing for sure, we know they are there.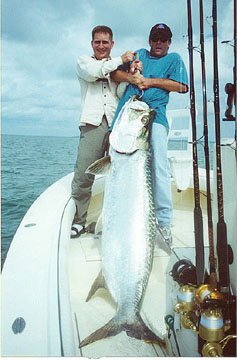 These weather conditions are well below our normal temps of lows in the 50s and highs in the 70s. While the cold has been prolonged, in typical years the worst is behind us by the end of the month. On a positive note, the current conditions keep the fish hungry and tight. In just a few weeks we will experience all the benefits of a cold winter and once again, forget it ever happened.
In the meantime, I have offered a picture of Scott and Chris Forey with a 200lb.+ giant tarpon caught with us last spring as refreshing reminder of what is now just weeks away. If you have been lurking on our site and considering a trip, now is the time to get anything (something) for March through July.
Screaming Drags and Tired Arms!
Robert McCue