Florida Fishing Report: Florida Fishing Charters

Our Florida fishing report page offers up to date information on fishing in the Tampa, Clearwater, St. Petersburg, Tarpon Springs, Orlando and Boca Grande area of Florida's West Coast.For more information on our Florida fishing charters and tarpon fishing charters, please click the link below
Florida fishing charters

Florida Fishing Report
18JUN02



FRANK SARGEANT of The Tampa Tribune
Published: JUN 8, 2002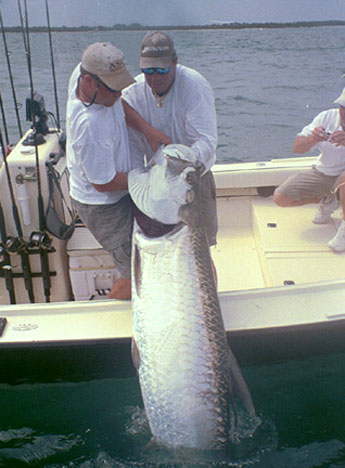 Captain Rob McCue of Tarpon Springs and angler Daniel Saey of Charlottesville, N.C., brought an even larger tarpon to the boat at Boca Grande on Thursday. The fish measured 90 inches to the fork and had a girth of 46 1/2 inches. Based on the weight formula, that would have put it at about 243 pounds, making it the largest tarpon ever landed at the big pass and possibly matching the largest landed in U.S. waters. A 243-pounder was landed at Key West in 1975.
However, McCue decided not to bring the fish in for weighing, so his record will remain unofficial. He did photograph it, however, and the catch and measuring was witnessed by dozens of nearby anglers who verified the size. The tarpon ate a breakaway jig on the edge of the Lighthouse Hole. Saey fought it for about 20 minutes on 40-pound-test line.
Amazingly, McCue said one of his anglers hooked an even larger fish two days earlier.
``That fish just swam to the surface within 30 seconds and laid there, and it was a lot longer than this one,'' said McCue. ``It's hard to say how big it was in the water like that, but it was right under the bow and both my mate (Brian Timmons) and I estimated it at 8 feet.''
Unfortunately, the jig fell out of the monster's mouth, so there was no chance to measure or photograph it. For details, visit McCue's website, www.gianttarpon.com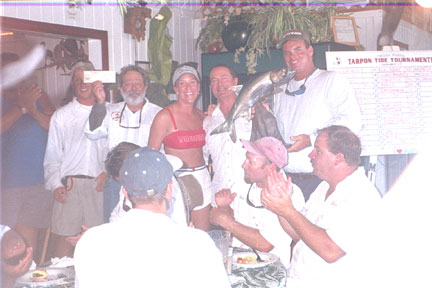 Team Bounty Hunter, Miller's Tarpon Tide Tournament #4.
2nd Place 140lbs.
From far left: Will Lognecker (sorry Willie---you were unintentionally cropped), mate Brian Timmons, Brent Forry (with the check), angler Dawn Stone, team leader Greg Crouch, and Capt. Robert McCue.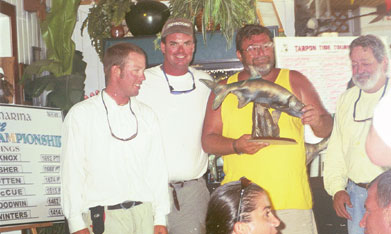 Team Bounty Hunter, Miller's Tarpon Tide Tournament #5.
Most Releases (3)
From Left: Brian Timmons, Capt. Robert McCue, Will Lognecker, Brent Forry
Unfortunately, last Saturday's Ladies Day (Tarpon Tide Tournament #6) was not as bountiful. A tropical low moved over the Gulf around noon on Friday and by Saturday morning the strong southwest winds and heavy rain had run every single tarpon out of the Pass. The ladies fished relentlessly in some adverse conditions (and without fish) with a smile, class and dignity. The only complaints were on the radio from the male captains who were disgusted with Mother Nature. In all 38 teams fished. There were no fish hooked or landed. 1st, 2nd and most release prizes were drawn from a hat when sudden death overtime produced no fish as well. All my life I have never been lucky and achieved what I have through hard work. Though I'd likely decline a lottery placing, we did not have that decision to make.
Since, Mother Nature has continued with her fury. At this writing, Father Time has cleared the skies. We are forecasted to see easterly winds. This accompanied with strong tides and a possible crab run on the moon should bring the fish back to the shoreline. There is much reservation in this wait and see situation. The timing of the blow occurred while many fish had already headed offshore to spawn and had not yet returned. For now we sit and wait and see what cards the fish gods will deal us. In addition to filling the dreams of many, two regular and the $100,000 tourney all remain in question.
*20JUN02 Update-------The weather has cleared and many fish have returned to the Pass and the beaches----hungry!
Screaming Drags and Tired Arms!
Robert McCue
The above animation utilizes "flash". We are in the process of developing additional video for your pleasure and is soon to come. If you do not have the "flash" plugin within your browser you can download it free by clicking the logo below


Florida Fishing Charters
Past Florida Fishing Report
1JAN02 18JAN02 2FEB02 28FEB02 18MAR02 2APR02 26APR02 26MAY02 31MAY02
2001- 2000 & 1999 Report Archive

Send E-Mail

OR CALL TOLL FREE
1 (800) 833-0489
---
Home | Tarpon | Snook | Flyfishing | Species We Catch | About The Area
Frequently Asked Questions | Links | Year 2002 Giant Tarpon Fishing Season
| Testimonials | Moons and Weather | Video
This site contains tons of World Class gamefish photos, please surf the entire site to review these images

Last Update18JUN02
Copyright 1991-2002 Bounty Hunter Florida Sport Fishing Charters & Guide Service Inc.
All Rights Reserved. Do not reproduce or distribute in any form.
Florida Fishing Report:
Florida fishing charters