Warming Trend Offers Stabilizer A more typical jet stream warmed the air across the state the past few days. The warm air offered some false hopes of "things" returning to more normal Florida winter conditions. With the water temperature well below the typical for January, the trend only stabilized the situation and kept it from getting any more degenerate. While fishing did not improve, the trend will offer us some cushion to weather another cold front on its way for the weekend.

As stated in my last report, trout and a few reds were the first to poke their heads out. These fish were found in very shallow water just outside and adjacent to river mouths, creek heads, cul-de-sacs, and bayous. Sheepshead have come one strong and can be taken both on the flats (sight fishing opportunities) and the backwaters. Sheepies are found around docks, rocks, limestone-lined holes and oyster bars.

The week offered light winds that allowed anglers to sample the bottom reef fishing for grouper and snapper. Those with the means to get out past 65 feet of water fared best with some very impressive catches. Inside of that, the water remains cool and thus the bite much slower.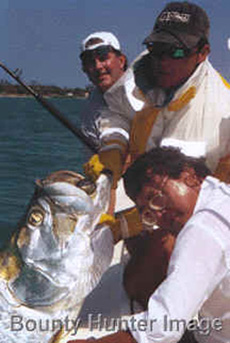 The front currently knocking on the back door will not offer us record setting temperatures that we experienced during the passing of the last two. This one will be more typical in nature and hopes of a more consistent pattern remains on the minds of all involved.
In the meantime, I have offered a picture of Mitch Williams with a 200lb.+ giant tarpon caught with us last spring as refreshing reminder of what is now just weeks away. If you have been lurking on our site and considering a trip, now is the time to get anything (something) for March through July.
Screaming Drags and Tired Arms!
Robert McCue