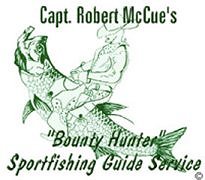 Click here for current fishing reports page
1MAR99
It's A lamb
A cool crisp north wind whispered aloft a bright full moon, skies of azure, and the fragrance of a bloom. Yes, March came in like a lamb. Now it will all begin, it's time to go fish'n.
We took a few high pressure systems the past week. But all in all it was not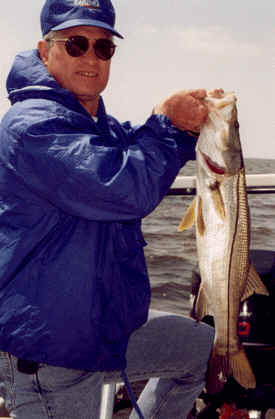 bad fishing. Here's the roundup.
The Anclote steamplant really gave up some nice catches the last week We had a few days where we slammed the pompano to 4 lbs., permit to 12 lbs., bluefish to 6 lbs., and jacks to 12lbs. We prematurely released a large cobia and pulled jigs from several poorly hooked cobia ranging from 10 to 30 lbs.
We fished mainly Cotee jigs to tag all of these fish. I did have the opportunity to get in on the big jacks while I had a flyfisherman aboard. Screaming drags and tired arms!!! In addition, the jacks were very responsive to topwater Cotee Button Eye jerks and 5M MirrOlures. A few folks caught whitebait and brought it in on the jack festival, but we caught as many fish on lures. Most days the jacks stayed close to the ditch on the flat adjacent to the plant. On occasion they would break north or south a few miles but would turn as soon as they sensed the cooler water. Keep your eyes open…they can be just about anywhere. Then again… you can just pull up the where somebody else has found them, but keep your camera put away until you boat the fish. It's amazing how the fish Gods spread karma.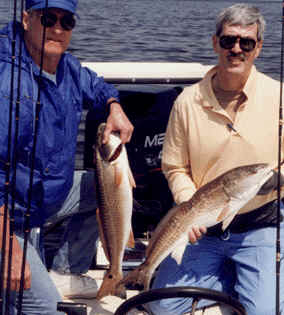 Trout fishing was on one day and off the next. I went down to the Clearwater area where we had been killing them one day last week. The fish were in just about every pothole we drifted over, yet they refused to get fired up. I must admit the high pressure made for some pretty days, but it too caused the fish on the open flats to become a little sluggish.
Even miles away from the power plant, cobia are a possibility. While reeling in a trout off Howard Park a 40 lb. fish took a swipe at, my client's 12 inch trout. A male that was in the 20lb class escorted her. Catch a few hand-sized pinfish and let them free-line from the stern while trout fishing for a potluck cobia. Trout are now open in both zones on the Gulf coast. Cobia must be 33 inches to keep. Please don't gaff them unless you are positive the fish is of legal size.
Again in the water flow of the power plant a few reds and snook were taken. I was not out today, but I feel confident I will find the female snook out on the staging areas tomorrow on the full moon. I will let the wind clock around to the southeast before I concentrate on them this week. Cotee motor oil jigs will catch their share of fish, as will the sardines on warm days.
Everything is looking up for a great spring. These fronts are the norm at this time of year and are mild mannered. As evident by the movement of bait and the migration of cobia, we are right on schedule. LETS GO FISHING!
Screaming Drags and Tired Arms!!!
Robert
Past reports 8FEBB99 17FEB99 22FEB99

Send E-Mail


To Capt.Robert@gianttarpon

OR CALL TOLL FREE

1 (800) 833-0489

[Home] [Tarpon] [Snook] [Flyfishing] [Species We Catch] [About The Area]

[ Frequently Asked Questions] [Links] [1999 Giant Tarpon Fishing Season]

Last Update 1MAR99
Copyright 1991-99 Bounty Hunter Sportfishing Guide Service Inc.
Do not reproduce or distribute in any form.