Florida Fishing Report: Florida Fishing Charters

Our Florida fishing report page offers up to date information on fishing in the Tampa, Clearwater, St. Petersburg, Tarpon Springs, Orlando and Boca Grande area of Florida's West Coast. For more information on our Florida fishing charters and tarpon fishing charters, please click the link below
Florida fishing charters

Florida Fishing Report
21MAY03
| | | |
| --- | --- | --- |
| | There's Silver in D'em Hills | |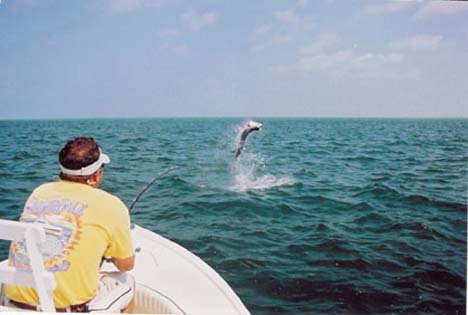 Jamie Pinter bows to the silver king on a trip last week (nice shot Richie!)
The 2003 giant tarpon season got off to a rough start. Late season cold fronts kept the bulk of the fish at bay for the first week or two. The natural phenomenon of the algae bloom known as "red tide" had been the most frustrating variable so far this year. The bloom had been coming in and out with the winds in area for several months. In the nick of time levels dropped to "low" and some fish moved in. Unfortunately our neighbors to the south in the Sanibel area were not as lucky. There, they experienced high levels of the toxic that resulted in a fish kill over several weeks. The bloom cut off the normal travel paths of the fish coming up from the south. As well and even though levels were low here, there were enough of the algae to upset the appetite of the fish. For nearly a month we struggled with putting fish in the air as we traveled great lengths to fish tarpon acting well out of the ordinary in the Giant Tarpon Capitol of the World.
That was then and this is now.
With a waxing full moon last week, spring tides and favorable East winds, concentrations of tarpon steadily built with the moon. Toxin levels all but disappeared and though off from years past-the bite and fishery have been strong the past week to 10 days. Fish are currently being jumped in typical numbers on the beach, flats and in Boca Grande Pass.
Major hurdles were leaped the past few weeks while turning to permit, kingshish, grouper, snapper and cobia to fill the empty spaces on lock jawed silver kings.
The now behind us situation resulted in some long and stressful days as a fishing guide whom must wave a magic wand to make things what they should be. I will draft a more detailed report by midnight on May 30th complete with additional images.
Screaming drags and tired Arms!
Robert McCue
The above animation utilizes "flash". We are in the process of developing additional video for your pleasure and is soon to come. If you do not have the "flash" plugin within your browser you can download it free by clicking the logo below


Florida Fishing Charters
Past Florida Fishing Report
15JAN03 24FEB03 24MAR04 13APR03
2002-2001- 2000 & 1999 Report Archive

Send E-Mail

OR CALL TOLL FREE
1 (800) 833-0489
---
Home | Tarpon | Snook | Flyfishing | Species We Catch | About The Area | 200 lb Giant Tarpon Club |
Frequently Asked Questions | Links | Year 2003 Giant Tarpon Fishing Season | Photos |
| Testimonials | Moons and Weather | Video | In The News | Newsletter |
This site contains tons of World Class gamefish photos, please surf the entire site to review these images
Last Update 21MAY03
Copyright 1991-2003 Bounty Hunter Florida Sport Fishing Charters & Guide Service Inc.
All Rights Reserved. Do not reproduce or distribute in any form.
Florida Fishing Report:
Florida fishing charters