Time to Reap the Benefit
Without question this has been the most severe winter in over a decade and one in which has seen many days with record setting lows. Conditions became so harsh, many reputable guides stopped running trips and thus halted their livelihood. Uncontrollable variables in Mother Nature affect us much like the same type of variables that affect agricultural farmers.
I suggested to all in my past recent reports to be patient and that we will soon reap the benefits of a cold winter. With daytime temperatures reaching the 80s and nighttime lows in the 60s the past 2 weeks (for the most part) the groundwork has been laid and now is the time. A spring time scenario has been present several times the past few weeks with afternoon sea breezes that are a true indication the times are a changing.
The natural migration of scaled sardines, glass minnows, and threadfin herring has commenced the past 2 weeks. This has everything to do with successful angling. Passing fronts of any degree will send the bait running at this very early start of the game. Under such conditions and after a mild passing front last Saturday, the week started off slow. Artificial lures produced trout, jacks and ladyfish, silver trout, Spanish mackerel, and bluefish in varying frequency. Passing high-pressure systems with associated bluebird skies and easterly winds will kill fishing for the glamour species (tarpon, snook, reds, trout) in a heartbeat when experienced over the next few weeks as well. Florida flats are no different than any other place in the Northern Hemisphere under these least desirable conditions.
As the temperatures stabilized by Tuesday, Wednesday was back on the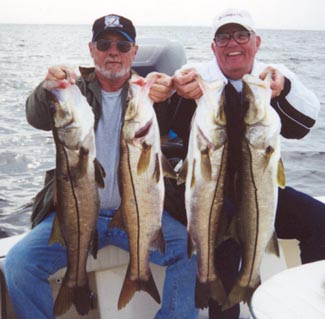 Tom Pelphrey and Larry Rowe enjoying
the retired life as "snookers" on 22FEB01
upside. The bait returned and the fish obliged. Yesterday (22FEB00) was the best day we had so far this year. Fishing Tom Pelphrey (formerly of Xenia, Ohio) and Larry Rowe (of Franklin Furnace, Ohio) proved the moon prediction of my last report to be fact. All totaled they took some 13 snook between 28 and 39 inches, several trout to 6 lbs. and a handful of jacks (see image). Many more fish were missed in attaining the finesse of sardine fishing on the still frigid gamefish during a one-day charter. Overall, a job well done fellas. On the same ratio of par: Today (23FEB01), Steve and Tiffany Jacobsen of Belleville, IL. did the Bounty Hunter shuffle with 7 snook from 29 to 33 ¾ inches., several trout and a handful of jacks on a 4 hour half day. Steve found the true meaning of early spring snook being filled with "P*** and Vinegar" with a hawse that stripped over 165 yards of line only to gain freedom via an oyster bar. There is world of difference in the power of these fish when they take on the rigors of gaining lost winter body fat than that of any other time of year. Period.
As a general rule of thumb, outside of the trout, reds and snook are holding on the edges of the flats and within the backcountry. Efforts are best spent on the "inside". Snook are being found in deep pockets, edges and points (even in less than 2 feet of water).
Today and yesterday were just the tip of the iceberg of what lays ahead over the next few months. Naturally, yet another front is scheduled for the weekend. Next week will likely follow similar suit of this week in a winter that will not die, but that soon will have no choice.
Giant tarpon remain on the minds of all that are predicting and expecting this to be a banner year. Don't miss out on the World's Greatest Giant Tarpon fishing in 2001. Availability is limited.
Screaming Drags and Tired Arms!
Robert McCue