Florida Fishing Report: Florida Fishing Charters

Our Florida fishing report page offers up to date information on fishing in the Tampa, Clearwater, St. Petersburg, Tarpon Springs, Orlando and Boca Grande area of Florida's West Coast.For more information on our Florida fishing charters and tarpon fishing charters, please click the link below
Florida fishing charters
28OCT01
Florida Fishing Report
click here to view current report

All apologizes on running a little tardy on the site report. It has been a very hectic 2 weeks as I bought and moved to a new house and tried to make a living all at the same time. Some major changes will be on the way as a significant cold front has cleared the state over the weekend. Over the last several weeks we have experienced several fronts that all offered immediate fall fishing patterns, only to have the water climb back into the upper 70s for extended periods of time. This scenario wreaks havoc on those of us who try to pattern gamefish in order to experience solid, quality fishing on a near daily basis. Then again, producing results under any and all conditions never was or will be easy; if at all possible, it only looks that way in print.
| | |
| --- | --- |
| Despite the fact that the water had warmed again to late summer temps, the biological time clock was ever so present through the last week's dark moon. Outside spots that were teeming with snook and redfish went dry and were later to be found scattered around the backwaters and inside their wintering grounds. Add in a few jacks and the oddball gator trout and the day was typical of the norm the past 10 days. We experienced many consecutive days with strong north and northeast winds during the moon and the predicated flood tide heights of over 3 feet above mean low water was only a wish that was not to be. | Tom Ross (right) and Bob Bradburry show off a couple of the many reds taken on a trip last week. The pair took snook, trout and jacks in addition. |
John Orszulak (top and bottom image) displays
a pair of backwater snook taken last week aboard the Bounty Hunter.
Thus we only had two days we could get on top of schooling reds. One day was a slam with over 30 fish landed, the other was several days later and the pattern was broken. I found another impressive school at low tide early last week and beat them up pretty good, only to not hold true the following day. No surprise as it had been years since I last caught them at this particular marsh creek mouth.
Last week gave me the opportunity to see some familiar faces. John Orszulak was back in town on business and managed to squeeze out a couple of trips. The first day John brushed up on his snook'n tactics, a few jacks, trout and made an attempt on some late season tarpon. We got closer this time with the tarpon than we did a few weeks ago together. They rolled a little, I chummed a little, then chummed a little more, and then finally dumped 500 baits on them at sunset and they still snubbed us in typical late October fashion. My original client of all those years ago, Andy Massler, was on an expedition to entertain a friend from up north and his 10-year-old son. Both on this trip and John's second day offered me some respite on what fishing is all about.All too often we as guides become so highly specialized in the glamour species, we often forget about all the other fish available to us. Between the two trips of "catch me as many fish as you can", we tore up the inshore and nearshore waters with bluefish, mackerel, kingfish, bonita, grouper, jacks, snook, redfish, flounder, houndfish, shark, trout, sea bass, ladyfish and blue runners (did I forget any guys?). Oh that's right, Andy caught a pinfish on a scaled sardine. Thank you both for the refreshment!
Naturally now with the weekend offering the coolest temperature this fall, all will change again. I think this is the first cold front I did not have to fish through this fall. I dodged a bullet and by the time I hit the water this week a whole new plan of attack will be drawn. I foresee those snook having finally tightened up and will make fishing for them worth it. The grouper should come alive on the nearshore reefs and rock piles. With the winds clocking around to the east and the following bait schools (a lot of it out there right now), expect a good push of jumbo kingfish to join in with the Spanish mackerel and bonita already in place just offshore. With the migratory species in place and accessible, the classic trips of offshore in the morning and catching the warm afternoon high ebb tide in the backwaters offers some of the best trips of the year on this upcoming full moon. First order will be to locate the bait as it has likely now left the flats, at least temporarily.
Screaming Drags and Tired Arms!
Robert McCue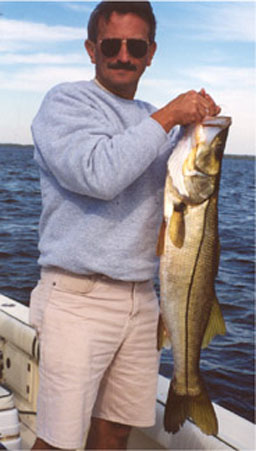 The above animation utilizes "flash". We are in the process of developing additional video for your pleasure and is soon to come. If you do not have the "flash" plugin within your browser you can download it free by clicking the logo below


Florida Fishing Charters
Past Florida Fishing Report
9JAN01 19JAN01 26JAN01 11FEB01 23FEB01 4MAR01 15MAR01 29MAR01
8APR01 18APR01 14MAY01 12JUN01 15JUL01 8AUG01 15AUG01 25AUG01
1SEP01 13SEP01 21SEP01 1OCT01 15OCTO1

Send E-Mail

OR CALL TOLL FREE
1 (800) 833-0489
---
Home | Tarpon | Snook | Flyfishing | Species We Catch | About The Area
Frequently Asked Questions | Links | Year 2002 Giant Tarpon Fishing Season
| Testimonials | Moons and Weather |
This site contains tons of World Class gamefish photos, please surf the entire site to review these images

Last Update 28OCT01
Copyright 1991-2002 Bounty Hunter Florida Sport Fishing Charters & Guide Service Inc.
All Rights Reserved. Do not reproduce or distribute in any form.
Florida Fishing Report:
Florida fishing charters