It was deja-vu all over again after the last low pressure system cleared us, it moved back over us again for Tarpon Tide Tournament # 7. Much like Ladies Day, the rain fell in sheets, lightning crashed, and thunder boomed. At least this time a few fish held in the Pass. 45 minutes into the start, a small fish had been released, Team Paradise had weighed a 168 and now we had a 100 lb. fish at the side of the boat with a decision to make (rules are that you are allowed to weigh one fish only). Though a good fish, the fish was far from tournament caliber. With the way things had gone during the week and this days current weather, there was no doubt in my mind----weigh and enter it for second. As a team, we do everything as one. We had 2 votes enter, 2 votes let it go. After some persuasive words on my behalf, it went 3 to 1 to enter it. That was as far as it got and we let it go. We jumped another fish off and that was all for Team Bounty Hunter (and near the rest of the field for that matter). A 75 lb. fish took second.
While the decision knocked us from taking second, it also did nothing to advance my points in the Captain's Championship. Combined and ultimately--- a serious financial lost opportunity. We are a young team, composed of a first year mate and two favorite long time clients. They are all first timers in the competitive arena of fishing for big bucks. While I could easily build a NASCAR merit team of guides, these guys are like family and we tick together like a fine Swiss watch. We win by the sword and we fall by the sword---we are a team. With the camaraderie we share, I would never trade any of them for the world.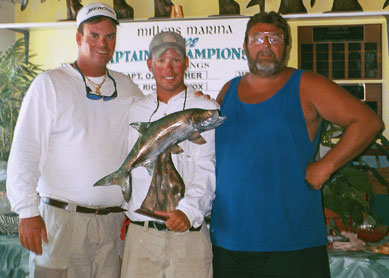 Tarpon Tide Tournament #8
Team Bounty Hunter
2nd Place 171 lbs.
Left to Right:
Robert McCue, Brian Timmons, Will Longnecker
One week later in Tarpon Tide Tournament #8, Brent took ill and was unable to make it. Willie, Brian, and myself would compete as a threesome. After lingering near two weeks, the low had all disappeared and the Pass was refurbished with fresh fish. 45 minutes into the event Willie hooked and landed a 115 lb fish, which we immediately released as a 130 and 133 had already hit the scales. Then I hooked up. In a display of some bad sportsmanship, a few boats decided not to give us the berth we needed to fight the king and the fish was eventually lost. Minutes later, Brian stepped up to calling and he side shuffled down the starboard side with a fish on. A short time later, the monster's head broke water. It was evident to all; this one was in the money. Again, sportsmanship was poor as I tried to gaff the beast while Brian held boats off our rub rail. After a few choice words and a second attempt, I pinned the head against the gunwale, roped it threw the lower jaw, tagged it and to the scale we went. As the fish steadied in the sling, a young boy on the weigh boat screams out 180, but the official weight was called out at 171. Non-the-less we had VERY high hopes. We now had to sit near one and a half hours as the rest of the fleet tried to beat us. 45 minutes later, the unthinkable became reality. A 178, ironically the 2nd largest fish entered in the entire series, officially bumped our fish and another second place for Team Bounty Hunter was eminent. On the upside, the fish scored second and with the high weight, we moved into second place and well within striking reach in the Captain's Championship in addition to another check and another trophy.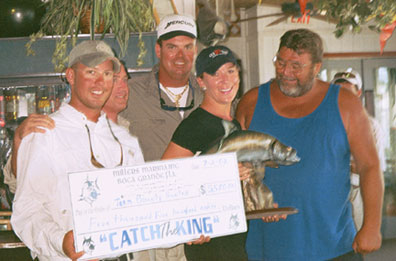 $100,000 Catch the King
Team Bounty Hunter
Most Releases
Left to Right:
Brian Timmons, Greg Crouch, Robert McCue, Dawn Stone, Will Longnecker
Next up was the $100,000 two-day "Catch the King" tournament. Now into the first week of July and most fish having moved north, we remained reserved on the fishing. Onboard and returning for their second event was honoree team members Dawn Stone and Greg Crouch from Texas. In a 2-hour pre-fish session the day before, Dawn hooked and landed two fish. The entire team was now confident to compete.
Day one started out with no fish in the Pass for the first hour. Then by an act of the fish gods above, a pod moved in from the harbor and another came around Caya Costa. Action got hot as the fish moved across the holes on the ebb tide. With just one large school of fish, it was tight as 18 boats jockeyed for position with the bite light on. Out of respect for teams with fish on, we kept in, but just outside the fish as 4 teams still had fish in the school. As fate will have it, in those minutes of fury and chaos, what was to be the winning fish was hooked and weighed at 169 lbs. We now knew what we had to beat. A short time later I hooked a fish and handed it to our rod man, Willie. The fish was about 125 lbs and later was recorded as the first release of tournament. With an hour left, Willie hooked a hot fish that jumped 5 times in less than 60 seconds. The fish finally calmed, but later broke off in the school. Day one was over.
On day two, things were much quieter on the boat and the concentration was intense. We had the security of releasing the first fish that would serve as our advantage in the case of tiebreaker. With 6K at stake for most releases, we knew we would need at least two, and the first with that in fact. Dawn was first to hook, but just a minute later the hook pulled. Then it was my turn. A fish of 130 lbs broke bad and Willie went to work to secure our second release (and total tournament field second). We now sat in good position, as it would take 3 releases to beat our most release position. We could now virtually sit back and weigh any fish without reservation and still take most releases in the event we could not best. Next up was Greg. A 120 lber danced on the horizon as he positioned himself in the chair, and successfully released our third fish minutes later. Willie later jumped an 80 lb. fish off. An hour and a half later the fat lady had sung. We caught more fish than anyone in the field, but the big money fish eluded us. In the Captain's Championship, due in part to releasing second place in TTT #7, and the fact we could not score a first or second place fish in the "Catch the King", I fell from 2nd into the 4th position by just 51 points. A feat considering we did not take first in a single event.
At the awards ceremony, the team was recognized as "catching more tarpon than anyone in the entire series" in addition to being awarded the check and trophy. A compliment the entire team holds close to the heart. It was my first time fishing an entire series of competition. I am a fishing guide and not gunslinger tournament angler. I learned a lot. Most importantly, the bonds I created among my teammates and competitors alike, I will forever hold true. I will never forget it fellas---in short---it was one of the fondest memories of my life.
Before closing out the 2002 tarpon season in Boca Grande, I would like to pay some homage "BJ Tug". I met Brian as the son of client several years ago. Last year when my mate fell through, Brian expressed interest with a position on the boat. He filled in here and there last year and finished the last two (lite) weeks with me at the end of 2001. During this past winter he enthusiastically expressed interest in taking the job the whole 12 weeks. A job I warned him several times, is not for everyone.
At the young age of 20, Brian is a college student at USF. I had much reservation if he could handle the 7 days a week, 100-hour workweeks, the lack of sleep, and the lack of proper nutrition for the entire distance. Though as his boss I had to rattle the employee's bed in the morning, he did it. However, it was what I later learned about this young man that I would forever remember as to how fortunate I really was.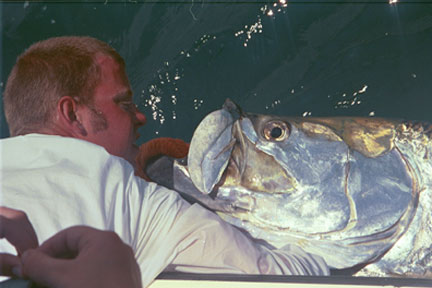 "BJ Tug" was the kingpin in landing world class giant tarpon in 2002
I will never forget (along with all the other guides in the pre-dawn darkness) the sound of flip-flops running to the boat and to work at 4:45 am ----EVERYDAY. His willingness to do anything he was asked without ever a "no", bitch, complaint, or reservation. He did everything with a smile and when he didn't, it was only because he was disappointed with himself. He took the initiative and strived EVERDAY to make me happy. He quickly gained respect of other top tarpon guides not because he was on my boat, but because he always greeted them with a smile, gave them encouragement and left them with a "thank you". A man half my age became my friend as we shared emotions about the day or our personal life's secrets. He won the hearts of all the girls and anyone he met, yet was disciplined in that he was here to do a job. He never fell for temptations or swayed from his responsibilities.
He was well paid and enjoyed the fine cuisine of Boars Head pure white turkey breast, Oreos and Klondike Nutty Buddies. Though he fell in twice, he was never discouraged and always tried harder. Even though I never thought possible, I learned much from this young man as I reminisced back through my twenties and too, my entire life. I will never forget all the times we shared as friends.
Your eyes glistened and your ever-present smile widened when you walked into my home with trophies under both arms this past weekend. I suppose in seeing and experiencing many things in my life, one day too, you will want to taste the pie for yourself. Always remember, it was not always this way. And if there is just one set of words I can give you, it is the words of my own parents----stay in school. There are better ways to go to the top.
Thank you "BJ Tug"!
Tarpon season is far from over. Over the next few months, Tampa Bay will offer up some of the best "off season" fishing in the state. For more info—please feel free to contact us.
Screaming Drags and Tired Arms!
Robert McCue