Weatherproof Your Day

I

n traditional fashion, passing cold fronts dictated the mark of November. The wind has been up the past ten days and fishing has been limited to the weatherproof backcountry. Water temperatures between the fronts have been hovering in the magic 68 to 70 degree marks. The fish have acclimated to the changes.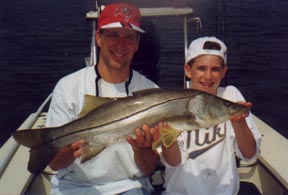 Snook, trout, jacks, small tarpon and a few redfish are being taken in the lee areas along the coast. Rocks, oyster bars, points and some skinny pothole flats are offering plenty of action on most of these species. Scaled sardines are still top producers when they can be found. Live shrimp, jigs, and topwater lures get the nod when the white crickets can not be found.
School size trout remain on the flats while the gators are becoming more frequent in the snook haunts just inside the creeks, rivers, deep cuts, and residential canals. Tarpon, jacks, and a few snook are being taken near the points, drop-offs, docks and holes inside the dredged canals.
After a passing front, jacks, pompano, trout, and permit are being taken on the flats both north and south of the power plants, as well as inside the discharge canal. Tarpon and cobia will too find these areas as the water cools below 68 degrees.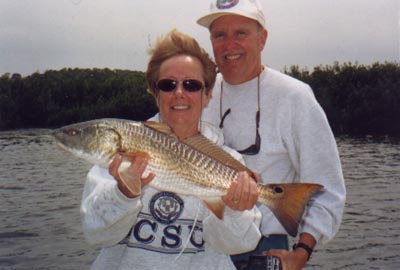 In the passes and just off the beaches Spanish mackerel and king mackerel are being taken in good and increasing numbers when the wind allows. Grouper are on the bite as well in 8 to 25 feet. Productivity depends on if you can get to your numbers, find the number, and if the wind has been blowing, how clear the water is.
Winds and temperatures can change suddenly in the fall. Always be prepared for weatherproof fishing nearshore, inshore, and in the backcountry. Cover lots of ground and refer to your logs from years previous. Year after year the fish will return to the same spots in quest of shelter, food, or travel path. Finding these fall spas is the key for success. It may take many years to build up these spots, but its never too late to start. If in search of a guide keep in mind that many enjoy the sport of backwater fishing when they have to, but there are many who do this all year. To them…weatherproofing your charter is just second nature.
Screaming drags and tired arms!
Robert McCue