30MAR18- The fish are in now! See our blog or follow us on social media to see the more!

Mid March - April 15
Boca Grande, Bradenton, Sarasota. Tampa, St. Petersburg, Clearwater, Tampa Bay, Orlando and the Disneyworld Area
"Pre-Season GiantTarpon"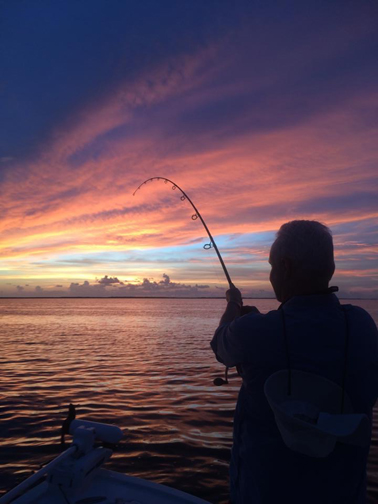 The majority of "tarpon guides" cramming the Internet with webpages are seasonal guides who fish tarpon during the reproduction cycle in May and June. This has lead to the misconception that this is when the fish are here. That is false. The fish are here virtually 12 months out of the year. That is-if you know where and how. Some time around the vernal equinox in March, when the ration of light to dark begins to increase and the water temperatures begin to warm, the fish that wintered here will begin to move out of their sanctuaries to feed.
As of 2015, I have dedicated near 30 years of my life to professional tarpon guiding. It is and has been my only source of income. A full time fisherman who is completely independent of any outside income or resource can not live a quality of life by just May & June alone. When a professional fisherman sees a hurdle in the form of a income limitation, the best ones work harder to expand their knowledge and experience. They don't fall into the trap of thinking like or with their "buddies" - that's what separates them from "the fleet".
He/she will find new places and develop new techniques that will eventually be "found out". This has historically resulted in developing fisheries that did not exist prior. These "3 percenters" are the very core of the entire industry- no holds barred.
When is tarpon fishing best? The answer to that is trivial for a seasoned pro....any time they can be found...starting in March!